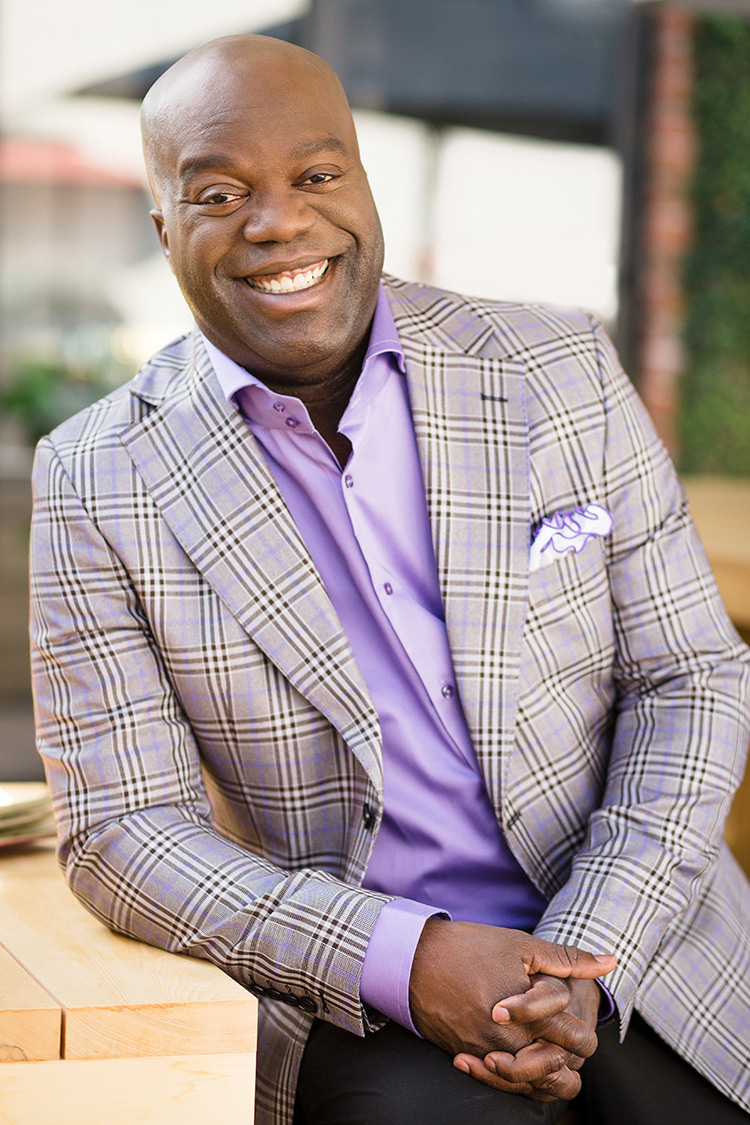 Simon T. Bailey
Executive Advisor, Educator & Brilliance Expert
Speaking Style: Enlightening, Transformative, Motivational, Actionable
Simon T. Bailey is a Breakthrough Strategist whose life's purpose is to teach 1 billion+ people how to be fearless and create their future. He equips companies with the tools necessary to effect cultural transformation resulting in higher employee engagement and platinum customer service experiences. He challenges individuals to dig deep to find and release their inner brilliance and become Chief Breakthrough Officers –personally and professionally.
With more than 30 years' experience in the hospitality industry, including serving as sales director for Disney Institute, Simon knows how to engage and inspire leaders and team members through his keynotes, workshops, books and online courses. He has personally worked with more than 1,700 organizations in 46 countries since launching Simon T. Bailey International more than fifteen years ago. Simon has been named one of the top 25 people who will help you reach your business and life goals by SUCCESS magazine, joining a list that includes Brene Brown, Tony Robbins, and Oprah Winfrey. He is the author of tenbooks including his most recent release, Be the SPARK: Five Platinum Service Principles for Creating Customers for Life.
His Building Business Relationships course on Lynda.com on LinkedIn Learning has been viewed by more than 864,000 people worldwide. His Goalcast video, released Father's Day 2018, has over 70 million views. Simon holds a Master's degree from Faith Christian University and was inducted as an honorary member of the University of Central Florida Golden Key Honor Society.
When he is not working, Simon spends quality time with his two active teenagers, roots for the Buffalo Bills, and serves as a board member for the U.S. Dream Academy, Orlando Health Foundation, and Florida Virtual Learning School Foundation.
Be the SPARK: Five Platinum Service Principles for Creating Customers for Life
If you're unforgettable, you'll create a customer for life – and in this service-driven economy, where automation and algorithms have replaced personal interaction, every moment is an opportunity to create a memory in the hearts and lives of your clients and team members.
In this presentation, Simon T. Bailey leverages what he's learned over 30 years of working for six different companies, including the Disney Institute and The Ritz-Carlton Learning Institute, to create moments that matter. Simon leans on evidence-based research to provide tried-and-true methods that work for everyone, no matter the job title.
Participants will:
See that superior customer service is a connection, not a transaction or a product
Become empowered to see customers and team members as guests and create a meaningful, personalized experience
Learn to anticipate needs and respond immediately, capturing loyalty through kindness
Create a culture where everyone matters and people are invited to be their best selves
Relationships are the currency of the future. Simon will help you break through and transform from good service to Platinum Service and create brand champions who become customers for life.
For people ready to instill change and passion in their organization, peers, and life.
Based on Simon T. Bailey's book: Be the SPARK: Five Platinum Service Principles for Creating Customers for Life
Brand the Moment: Establish a Culture Where Everyone Matters
How can you establish a culture where everyone believes that he or she matters, their voice is heard, and they play a vital role in the success of the team and the company?
Everything Simon knows, has seen, and has studied comes down to this evidence – based truth: Culture + Connection + Customers = REVENUE
A leader's objectives will always be tied directly or indirectly to revenue, p rofit, or the bottom line. However, the process for achieving true success always begins with Culture. Culture is created by leaders who foster conditions that are sustainable for growth and through what many would call random acts of kindness that produce emotional and memorable experiences for team members.
Using our SPARK model, Simon T. Bailey shares that these acts should be anything but random. They are intentional moments that collectively become the glue for team loyalty, inclusiveness, and cohesi veness. These acts can be taught and operationalized in any organization. The process enables a leader and an organization to be purposeful about team bonding and delivering honest, candid feedback in a respectful, authentic manner that motivates, supports , and encourages team members to become breakthrough contributors to the organization's success.
Participants will learn how to:
Establish a Culture where everyone matters
Create a deeper Connection with team members
Spark a relationship with Customers for life
These 3 Cs begin and end with brilliant leaders who brand the moments for employees and customers.
For audience members of all vocations, ambitions, and experiences.
Based on Simon T. Bailey's book: Be the SPARK: Five Platinum Service Principles for Creating Customers for Life
Stop Selling and Start Connecting
The Gallup Organization states that 70 percent of human decision – making is emotional and 30 percent is rational. When buyers emotionall y connect with a brand, they buy more, pay a higher margin, and tell others about their experience. It is imperative for sales professionals to stop selling and start connecting. When they sell, that's a transaction. However, when they connect, a relations hip is created for the life of the brand.
This shift in selling has tremendous upside potential as organizations experience disruptive market forces, a change in client needs, and unseen economic headwinds. Sales professionals who intend to grow market sh are by acquiring new customers and increasing margins from existing customers must examine their sales edge.
Upon completion of this session, your sales team will be inspired to:
Shift from selling to live to living to sell by creating a personal brand that attracts new opportunities and establishes credibility in the marketplace
Shift from telling customers about features and benefits to asking high – grade questions that unearth other potential opportunities
Shift from just selling a service to providing a solution and fulfilling the customer's wants and needs
Learn how to set up internal team members for success by providing a seamless and consistent customer experience
For audience members of all vocations, ambitions, and experiences.
Based on Simon T. Bailey's book: Be the SPARK: Five Platinum Service Principles for Creating Customers for Life
Accelerate Leadership Brilliance
Organizations face many challenges – the economy, demanding markets and stakeholders, competition, and growth. One of the most significant challenges is finding quality employees and developing their talent so they become "assets with facets" focused on being breakthrough contributors to the organization's success.
Leaders and team members will be inspired to:
Contribute to the success of clients, partners, and their team by bringing out the best in themselves
Create their future by becoming self – motivated, productive, and engaged in their work
Operate in their brilliance and bring out the brilliance in others
Be innovative in their approach to team building and engagement
Create harmony in their teams and organizational partners, bringing about higher levels of performance
Attendees will become empowered to use their strengths and develop core skills to collaborate with others, contributing to higher levels of productivity and organizational success.
For audience members of all vocations, ambitions, and experiences.
Based on Simon T. Bailey's book: Release Your Brilliance: The 4 Steps to Transforming Your Life and Revealing Your Genius to the World
Shift Your Brilliance – Leading Amidst Change and Uncertainty
Business change moves at the speed of light. To keep pace, individuals within an organization must raise the bar on their performance and reset their mindset. The leadership skills of yesterday will not carry the day in today's continually evolving economy.
As the business climate changes in the midst of gender parity, #MeToo, pay equity, diversity, and inclusion we, too, must change and embrace what Simon T. Bailey calls the "Vuja de Moment." This is the opposite of déjà vu and is an invitation to disrupt what is comfortable and convenient to embrace what needs to emerge to remain relevant, innovative, and competitive.
Collaborative problem-solving triumphs over traditional top-down directives. Solution-oriented individuals are forward-looking in their thinking. Forward-looking thinking must permeate throughout the corporate culture. You must shift and embrace new methodologies to survive, compete, and thrive through the ever-changing demographic, technological, and regulatory marketplace changes that affect businesses today.
No one is immune to these predictable changes. The traditional winning formulas of yesterday will not hold up to the technological solutions that will continue to automate "traditional" business processes.
Simon T. Bailey will teach you to:
Stay relevant and ensure your company stays competitive in the marketplace
Guide even the most tenured employees to reposition themselves and revitalize their role
Perform a mindset reset to break through the existing paradigm
Maintain clarity and confidence during transition and uncertainty
Give participants actionable tools to take ownership and develop the vision needed to be a leader for the future
For audience members of all vocations, ambitions, and experiences.
Based on Simon T. Bailey's book: Shift Your Brilliance: Harness the Power of You, Inc.
Brilliant Living: Own Your Future
Sometimes happiness is where you are. Sometimes happiness is elsewhere. Wherever your calling may be, Brilliant Living dares you to pursue your dreams.
Using lessons learned from working with 1,600 organizations over the past 15 years, and Simon's personal moments of reinvention, Brilliant Living will encourage you to grab the steering wheel of your life and drive into your future.
Participants will:
Be given a guide to assess the eight traits of being their most brilliant self
Be nudged to live life on their own terms, make a change, and do something exceptional
Be instilled with a major morale boost and hope for the future
Be inspired to build a legacy of excellence through bold, brave action
Leave with an increased capacity for confidence in their careers and lives
The choice is yours: Be average – or dare to BE BRILLIANT!
For people ready to instill change and passion in their organizations, peers, and life.
Based on Simon T. Bailey's book: Brilliant Living: 31 Insights to Creating an Awesome Life
Releasing Leadership Brilliance for Educators
Releasing Leadership Brilliance is all about empowering educators to shake up the outdated systems in today's educational system. Based on research and 21 case studies conducted with Dr. Marceta Reilly, Ph.D., Simon T. Bailey shares his methodology for transforming educational leadership.
Administrators, faculty, and staff all contribute to creating an optimal learning experience for students and engaging parents and caregivers in the process. Using the forces of flight as a metaphor, Simon will share the four cornerstones of leadership that will break your school's sound barrier to effective and life – changing education for today's students.
Every educator must possess the mindset to change themselves first and then change the system they are in, anticipate the future economic drivers of the community, and radically overhaul their approach to engaging teachers, parents, students, and the community at large in a new way.
You will:
Be empowered to create a culture where everyone thrives
Coached in how to build a professional presence
Develop collaboration skills
Shift from a teacher-centric to student-centered mindset
For educational audience members of all vocations, ambitions, and experiences.
Based on Simon T. Bailey's book: Releasing Leadership Brilliance: Breaking Sound Barriers in Education
PennMutual
Marriott Vacation Club
Chevron
Publicis Groupe
IBM
Microsoft
Walmart
Nationwide
Toyota
State Farm
Olive Garden
Cigna
Citrix
Northwestern Mutual
Gatorade
MasterCard
SunTrust
Verizon
Raytheon
Medtroni
"Simon hit a homerun! He used his time onsite to develop a super customized program to meet the needs of our members. He incorporated conversations he had with attendees and information he gathered from speaker sessions throughout the day. How many speakers do that! Simon was nothing but a delight on and off stage! He has a strong message supported by his experiences and strong stage presence. He is really a funny guy on stage as well. 98% of attendees rated him as excellent!" – James Lenz, Professional Development Manager, CUES
"Simon spent time getting to know our attendees and their challenges in advance so he could tailor his keynote directly to them as education leaders.He was the only thought leader that was also an active conference attendee. The result was very powerful. Our attendees left inspired and rejuvenated." – Beverly Hutton, Director of Development, National Association of Secondary School Principals (NASSP)
"As the 2018 Innovations in Testing Conference Chair, I had the pleasure of working with Simon both before and during the conference. He was an absolute joy to work with, graciously spending time with the conference leadership team leading up to the conference and attendees during the conference. Simon's curiosity, warmth, and positive mindset were apparent in every interaction we had. His inspiring keynote set the perfect tone for the conference and was well-received by the over 1200 members in attendance. If you're seeking an engaging and motivational speaker, I strongly recommend Simon –I'm confident you'll be delighted with his message!" – Rachel Schoenig, American Test Publishers Innovations in Testing Conference Chair
"We engaged with Simon to deliver the keynote at our annual Elite Hearing Network conference. He was amazing -he got to know our business, built a strong & relevant message, and delivered with an energy that was perfect! I really appreciated how he took the time to get to know us and understand our challenges -and he was open to feedback for tweaks we requested. The feedback from our members was over the top for Simon! Thank you Simon!"  Mary Anne Stangby, Senior Vice President, Amplifon Americas (Miracle Ear)
"I wanted to let you know that we had a great event with Simon T. Bailey. He was our guest speaker for our Staff Development Day. We had about 175 in attendance. I personally found the presentation to be very enjoyable, and our course evaluations confirmed that our membership found him to be inspiring with practical insight that will improve their teams. His presentation style is well polished with a nice blend of humor that made the day very engaging. Simon made me look good, he made our club look good, and I wanted you to know that we had a favorable experience." – Dr. Robert Corr, Seattle Study Club of Southern Colorado
"I wanted to take a moment to express our gratitude for your participation at our Convention. You delivered superbly … as expected. Your engaging keynote session was full of high value tactical content that received extremely glowing marks from Convention participants in our follow up evaluations … not an easy task from an audience of savvy bank executives. Well done." – Melea Wachtman, SVP, Administration, Ohio Bankers League
"Simon Bailey is one of a kind – down to earth, with vision, passion, and purpose in helping people look within themselves to be at their best. I had the pleasure of meeting Simon during a recent event where he delivered a flawless message on how to own, sustain, and create moments of brilliance. I would highly recommend Simon." – Evette Creighton, Leadership Development Consultant, Rockwell Collins
"I heard Simon speak at two different association executives meetings in recent years. More recently, I hired him to speak to our members–an audience of C-suite level and senior management leaders, at for-profit companies. They also found his content and delivery compelling and insightful (and he is a warm and generous person, to boot.)" – Mona Buckley, Executive Director/NonProfit CEO
"Simon recently spent the day with our health system leaders, and received some of the best reviews ever in the five years of our organization holding these quarterly sessions. He was dynamic, honest, and we felt his heart. He has the unique ability to reach the core ofour humanness to develop us into better leaders and better people. Great takeaway tools, great exercises, great session. Do not miss the opportunity to learn from Simon T. Bailey!" – Shari Kebler, Executive Director, Laboratory Services, Holzer Health System
"Simon Bailey is the BEST keynote speaker we've ever had! He was the highlight of the convention and our franchisees loved him.His presentation was incredibly customized to Goddard.We love the fact that he took the time to visit an additional school the week before the event.In addition, Simon attended other presentations and seamlessly wrapped key takeaways from those sessions into his own presentation –that was fantastic and much appreciated.On site, he was super easy to work with and really put our mind at ease. I would highly recommend Simon Bailey for any franchise event and there wasn't a single thing I'd change about his presentation or our experience of working with him." – Brian DeLong, Director, Marketing, Advertising & PR, Goddard Systems, Inc.
"We were privileged to have Simon as a keynote speaker at our Annual Meeting/Winter Quarter Conference. He was rated by our audience of healthcare executives as one of our best presenters ever. His genuine, knowledgeable, and inspirational style effectively educated and motivated us to be effective leaders, especially during turbulent times, by shifting our brilliance. Thank you Simon!" – Dale Shreve, President & CEO, Mental Health Corporations of America
"On behalf of the Physician Assistant Education Association (PAEA) Board of Directors and members, we would like to express our gratitude for your outstanding keynote address during our 2018 Education Forum in Anaheim, California. We deeply appreciate you sharing with our members how to find our inner brilliance and take charge of our future visions and ideas. Your enlightening talk and inspiring presentation motivated our PA educators and facilitated stimulating thought for themselves, their students, and the PA profession. The 2018 PAEA Education Forum was the most well-attended conference in our Association's history. Thank you for contributing to its success. We hope to have the opportunity to work with you again in the future." – Lisa Mustone Alexander, EdD, MPH, PA-C, President, 2018 PAEA Board of Directors
Podcasts (1)
Articles (0)
Mentions in the news (0)