Candace G. Carson
Founder & CEO
Candace G. Carson is both a person and entrepreneur to watch. Originally from New York, by way of immigrant parents Ms. Carson is a 1st generation American, an intellectual, and a multi-talented, multi-dimensional, and multi-faceted entrepreneur in every respect.
Candace' entry into the professional world of booking professional speakers and consultants, was a wonderous result of her being a lover of their offerings first and foremost! Addicted to listening to professional speakers like: Zig Ziglar, Tony Robbins, Les Brown, etc. and reading the material of great thinkers and authors like: Malcolm Gladwell, Zadie Smith, and others-  a discerning taste for what made a speaker good at what they did and what made a speaker not so ready to be called 'professional,' was born.
This love for listening to professional speakers, combined with her consistent passion for learning, reading, writing, various subject matters, the arts, and travel fueled her decision to start her entrepreneurial journey by building her own agency. It was an organic and logical choice.  Ms. Carson determined years ago that she would be a successful entrepreneur. (She's still actually considering becoming a successful physician, and/or performer.)
Lily of the Valley Speakers Bureau was her original entrée into the world of bookings, brokerage, and intellectual property purveyorship.  This tiny but mighty agency was where she made all of her mistakes. Here is where she learned as much as one could about meeting & event planners, professional speakers and their intellectual property, and more. With the help of her business mentor: Mrs. Betty Garett, a world-renowned speakers bureau owner, Candace realized that she needed to rebrand the company so that her matured knowledge base, and innovation more importantly would be reflected in the brand. That was when The Intelligentsia Agency, Inc. was born.
She could hear a common thread of messaging within the various speakers, despite the fact that they each belonged to different industries. The common thread was: human potential.
Naturally curious, studious, and passionate about the inherent potentiality embedded within every human being, the correlation between that potential and the impact it can have on industry, became apparent. A passion was born for connecting the most intelligent minds, and the most profound souls with the best organizations and audiences around the world. The synergy that occurs there gives her great satisfaction.
Candace enjoys learning, reading, singing, listening to music, acting, writing, traveling, and all things pertaining to plant based eating.
Ms. Carson's 1st book release, her 1st memoir "The Zeitgeist of Chameleons That Roost," is scheduled for release in 2018 and it is sure to inspire, motivate, and change the world.
Candace is here to serve you! To schedule an appointment to speak with her re your meeting or event, please contact her assistant Micqueala Wilhelm at 1.833.777.7993 or email Micqueala at micquealaw@theintelligentsia.co. To reach Ms. Carson directly, you may email candacec@theintelligentsia.co or call  toll free 1.833.777.7993 or locally 703.661.9898.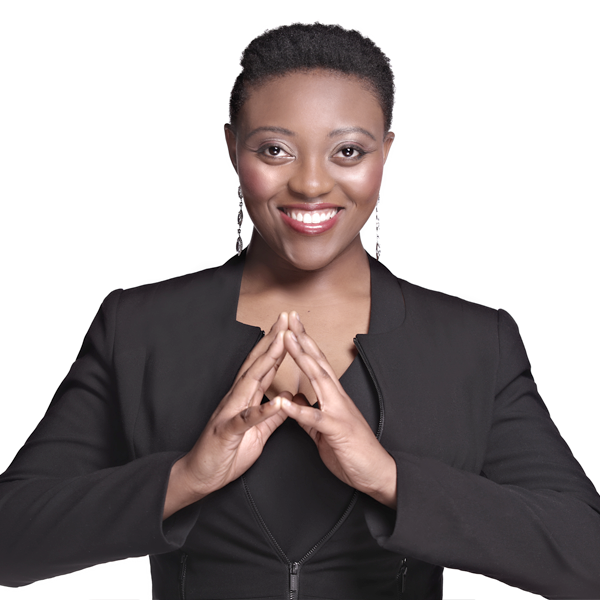 Bianca K. S. Brown
Speaker Relations Manager
Bianca K.S. Brown graduated Cum Laude from Wesleyan College and has a B.A. degree in Advertising and Marketing Communications as well as a double minor in Business Communications. She is a member of Phi Kappa Phi, an academic honors fraternity.
A self-described army brat, Bianca happens to be the daughter of a well-respected West Point graduate, who currently serves our country nationally and internationally. Bianca is also the owner of B-Ink Designs, a graphic design company specializing in helping people to communicate their brand message visually. Bianca believes in the ability of ideas to create powerful change, which is one of the reasons why she was drawn to working with and hired to work in the capacity of Speaker Relations Manager at The Intelligentsia Agency, Inc.
As the Speaker Relations Manager, Bianca is the primary point of contact for our professional speakers and consultants in addition to being responsible for establishing and maintaining professional relationships with each.
Her duties include: ensuring the quality and accuracy of speaker/consultant-related marketing material for client and agency usage, maintaining our speaker and consultant records database, and assisting our web developer Mr. Carl Thomas with ensuring that speakers and consultants are properly uploaded onto our agency website. Bianca also serves the Founder and CEO of our agency as it pertains to scouting and assessing talent, according to our original rating system.
Bianca completed a Communications internship at Bread for the World, and Purposeful Hire, Inc. One of her favorite quotes is: "A good head and a good heart are always a formidable combination." Nelson Mandela
Bianca is here to serve you. To reach out to Bianca, please call her at 1.833.777.7993 or 703.661.9898. To email her, send your email to biancab@theintelligentsia.co
Micqueala Wilhelm
Executive Assistant to the CEO
Executive and Personal Assistant to the CEO: Ms. Micqueala Wilhelm
Hailing from Australia, Micqueala Wilhelm is a superhero! She ensures that our CEO's schedule stays on track by assisting her with tasks that are of both personal and executive nature.
As a jack of all trades- the support, assistance, and entertainment that she provides to Ms. Carson is invaluable. Micqueala has done everything from sing at the president's birthday party to pick people up from the airport. Her business-related tasks list is quite lengthy. She can be absolutely depended on to keep Ms. Carson's schedule on track.
Ms. Wilhelm's past experience in business includes serving as the main assistant to a startup coffee shop, training barista's, and assisting a manufacturing manager with all of the equipment and resources.
Hailing all the way from Australia, Micqueala is a member of Passion Church in Washington, D.C., has two older brothers, and absolutely loves fruit and the arts!
Micqueala is here to serve you. To schedule a time to speak with our Founder/CEO Candace G. Carson please call Micqueala Wilhelm at 1.833.777.7993 or 703.661.9898 or send an email to micquealaw@theintelligentsia.co